This is the first time I've participated in a "group blog" KAL - sorry for not posting sooner!

But at least I have some good cabling to share. I finished the Breezy Cables Cardigan from the Spring 2006 Interweave Knits for a holiday gift (all pictures are clickable thumbnails):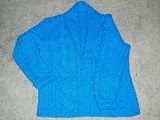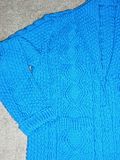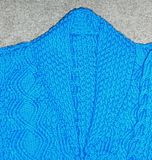 It's knit with KnitPicks Swish Superwash in Capri. The color is brighter in person than in the color card on the KnitPicks website, but not quite so floruescent as in my pictures (taken with flash).

I didn't modify the pattern, but found it a little frustrating around the arm decreases on the back because the decreases work into the 9-stitch cable and they don't give you any alternative options for continuing the cable with fewer than 9-stitches; the front decreases did *not* work into the 9-stitch cable, though, so at least it looks okay from the front. The directions for the shawl collar are okay, but were I to make this one again, I'd make the extension to go across the back longer so it would lay more flat.

And here's a work in progress:




This is one of the Father and Son Socks from the Fall 2006 Interweave Knits. It's the 2K size and is made from KnitPicks Essential. This sock is actually finished now and the second one is started. I'm knitting them on US1 needles. I pr'bly could have crossed the cable once more before the heel flap, but c'est la vie. Yes, there will also be a "Father" pair to match the "Son" pair. *smile*

Also on the project planning board is Peek-a-boo from Fiona Ellis's Inspired Cable Knits, but I have one other holiday project to finish first!